Colorado WINS members across Colorado met to hear from candidates for statewide office. Members have exercised their voice and endorsed candidates who they believe will fight for our communities, support fair compensation, and the right to a union.
We need to elect people who will stick up for workers and who believe in investing in our next generation. We can do this by voting for these candidates who share our values.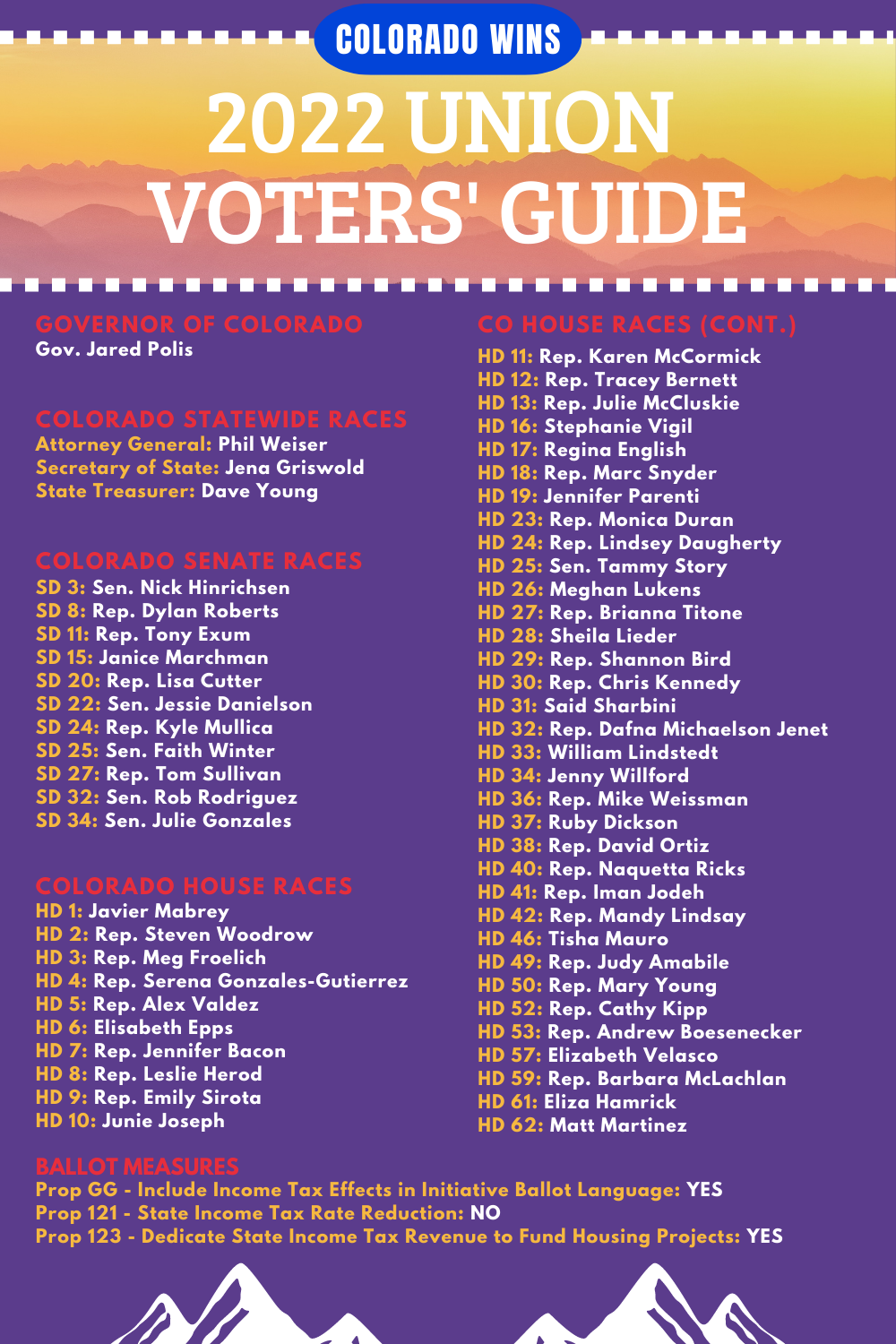 House Races:
HD 1: Javier Mabrey
HD 2: Rep. Steven Woodrow
HD 3: Rep. Meg Froelich
HD 4: Rep. Serena Gonzales-Gutierrez
HD 5: Rep. Alex Valdez
HD 6: Elisabeth Epps
HD 7: Rep. Jennifer Bacon
HD 8: Rep. Leslie Herod
HD 9: Rep. Emily Sirota
HD 10: Junie Joseph
HD 11: Rep. Karen McCormick
HD 12: Rep. Tracey Bernett
HD 13: Rep. Julie McCluskie
HD 16: Stephanie Vigil
HD 17: Regina English
HD 18: Rep. Marc Snyder
HD 19: Jennifer Parenti
HD 23: Rep. Monica Duran
HD 24: Rep. Lindsey Daugherty
HD 25: Sen. Tammy Story
HD 26: Meghan Lukens
HD 27: Rep. Brianna Titone
HD 28: Sheila Lieder
HD 29: Rep. Shannon Bird
HD 30: Rep. Chris Kennedy
HD 31: Said Sharbini
HD 32: Rep. Dafna Michaelson Jenet
HD 33: William Lindstedt
HD 34: Jenny Willford
HD 36: Rep. Mike Weissman
HD 37: Ruby Dickson
HD 38: Rep. David Ortiz
HD 40: Rep. Naquetta Ricks
HD 41: Rep. Iman Jodeh
HD 42: Rep. Mandy Lindsay
HD 46: Tisha Mauro
HD 49: Rep. Judy Amabile
HD 50: Rep. Mary Young
HD 52: Rep. Cathy Kipp
HD 53: Rep. Andrew Boesenecker
HD 57: Elizabeth Velasco
HD 59: Rep. Barbara McLachlan
HD 61: Eliza Hamrick
HD 62: Matt Martinez
Senate Races:
SD 3: Sen. Nick Hinrichsen
SD 8: Rep. Dylan Roberts
SD 11: Rep. Tony Exum
SD 15: Janice Marchman
SD 20: Rep. Lisa Cutter
SD 22: Sen. Jessie Danielson
SD 24: Rep. Kyle Mullica
SD 25: Sen. Faith Winter
SD 27: Rep. Tom Sullivan
SD 32: Sen. Rob Rodriguez
SD 34: Sen. Julie Gonzales
Propositions:
Prop GG - Include Income Tax Effects in Initiative Ballot Language: YES
Prop 121 - State Income Tax Rate Reduction: NO
Prop 123 - Dedicate State Income Tax Revenue to Fund Housing Projects: YES
CU Regent:
CU Regent: Wanda James
Statewide Races:
Governor: Gov. Jared Polis
Attorney General: Phil Weiser
Secretary of State: Jena Griswold
Treasurer: Dave Young
Ballots will be mailed the week of October 17th, 2022. Ballots are due by November 8th, 2022.
Voter information, including where to return your ballot can be found here:
https://www.coloradosos.gov/voter/pages/pub/home.xhtml